In-Office EndoSheath® Transnasal Endoscopy (TNE)
Insurance and Cash-Pay Accepted
To schedule an appointment, please call (318) 222-4282 to speak with our patient care coordinator or email This email address is being protected from spambots. You need JavaScript enabled to view it..
Overview of Procedure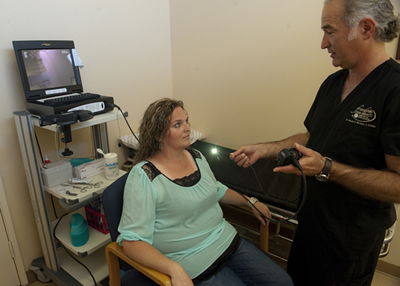 This in an in-office procedure which can be used in some cases as an alternative to in-hospital day surgery EGD (Traditional Endoscopy) used to inspect the internal anatomy of the digestive tract. A simple "nose-spray" type preparation is administered which numbs the nasal passages down to where a patient swallows. A "spaghetti size" flexible scope is gently inserted through the nasal passage, then easily swallowed and moved down into the top of the stomach. Patients experience no pain and the sensation is tolerated well by a majority of patients.
Who Should Consider the Procedure
Patients who suffer from chronic heartburn pain, reflux or GERD (gastroesophageal reflux disease) whose symptoms cannot be controlled with medication may consider this in-office procedure as a diagnostic tool to determine if they have a hiatal hernia or some other cause for their symptoms.
Patient Benefits of TNE over traditional EGD
Safer – No Anesthesia – procedure is done with topical pain control which makes it safer
Easier Patient Preparation - do not eat or drink 4 hours prior to procedure (instead of 12 hours for a traditional EGD)
Available/Convenient – performed by Dr. Merriman at his office, so no need to schedule through the hospital
No Recovery Time – with no general anesthesia, the patient can go back to work or go on with their day right after the procedure
Cost Effective – for cash pay patients, the cost is less than one third the cash pay expense for a traditional EGD, and for insurance patients with a high deductible or out of pocket, this cost is also much lower
Patient Recommended – over 90% of patients recommend TNE over traditional EGD